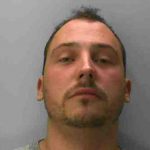 A CONMAN builder who lived the high life at his victims' expense has been ordered to pay back £25,000 of his ill-gotten gains – or face more jail time.
Jeremy John Penfold must repay money he used to fund a lavish lifestyle including purchase of a Range Rover, personalised number plate, jewellery, electrical items and a jet ski.
The 31-year-old, formerly of New Road, Uckfield, is currently serving a 30-month prison sentence for conning seven victims from across Sussex, including the elderly and vulnerable, of almost £50,000 for bogus building work.
East Sussex County Council successfully obtained a confiscation order under the Proceeds of Crime Act which requires Penfold to pay back £25,000 – to be shared between his victims – within three months or have three years added on to his jail term.
Cllr Bill Bentley, county council lead member for communities and safety, said: "This is a terrific result for the victims as it means Penfold must at least pay back some of this money – or face spending even more time behind bars.
"This individual callously and shamelessly used money fraudulently obtained from vulnerable residents who could scarcely afford it to fund a life of luxury for himself and those close to him.
"This verdict, which is the result of the diligent and painstaking work of our Trading Standards team, will be welcomed by the victims who suffered financially and emotionally because of his actions."
In a hearing at Brighton Crown Court on Friday, June 8 2018, the council presented evidence Penfold had benefitted to the tune of more than £75,000 from his criminal activity.
Money that was deemed to be recoverable included a £6,000 deposit for the Range Rover, £5,520 proceeds from the sale of the jet ski and £412.80 for the personal number plate 'JEZ 8517', as well as payments and gifts made to his former partner, her family and one other individual.
The court rejected a submission by Penfold's defence team that he had 'no assets' and found he had failed to provide any compelling evidence to this effect, and that he had a history of dishonesty proven by his conviction for these offences.
At a hearing in December, Penfold admitted defrauding seven victims across Sussex for building work which he only partially completed in two cases and for which he failed to do any work at all in the other five cases.
Lewes Crown Court heard his victims had included elderly sisters caring for their sick husbands, a retired couple and a resident in social housing. Penfold had used part of the money to fund a holiday in Mexico.
Penfold's victims lived in Battle, Eastbourne, Hastings, St Leonards (two victims), Hove and Steyning (West Sussex).