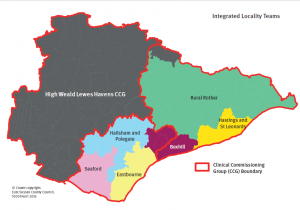 If you work in health and social care, or you're involved in community and voluntary organisations, you might have heard of the Locality Link Workers – and ideally, met yours!
The Locality Link Worker (LLW) team don't work directly with clients, and sometimes people don't understand where their role comes in. The team work with frontline health and social care professionals to better access community-based support for their clients. They're in a unique position to do this because they spend a lot of time with voluntary organisations and community groups building links and connections, so they know what's out there, and where problems might come up.
The workers were introduced as part of the Personal and Community Resilience programme, which operates in an asset-based way. It recognises that both people and communities have strengths that can be utilised and built upon.
There are currently 9 workers working across the county, with one in each of the six ESBT Integrated Locality Teams, and 3 across the four communities of practice in the Connecting 4 You area.  The team are:
Supporting better access to the support and range of services available in the community and voluntary sector, and developing the relationships between health and social care teams and community support groups.
Working in with Hastings Voluntary Action, Rother Voluntary Action and 3VA to support the community and voluntary sector in each locality to grow what is already working well, and develop capacity to respond to emerging health, care and wellbeing priorities.
Through linking people and groups together and creating opportunities for collaboration and sharing assets, the LLWs are helping to build community resilience.
Identifying local health, care and wellbeing priorities and working with a wide range of people to develop creative and innovative solutions and services in response.
If you would like to know more about the work of the Team and how your Locality Link Worker can support you, please contact them on the details below:
Alternatively please contact the co-ordinator: Rachael Toner, Locality Link Worker Coordinator Rachael.toner@eastsussex.gov.uk / 07590 629792