Creative cakes and costumes: local Clinical Commissioning Groups (CCGs) celebrate Carers Week and raise money for Eastbourne charity.
Ever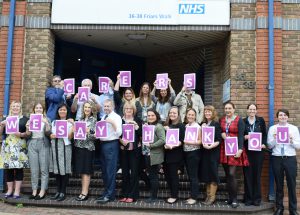 y year, there is a national campaign to raise awareness of the vital role carers play in our community. During Carers Week, local NHS staff held a number of fundraising events for Eastbourne-based charity, Care for the Carers. The team there provide carers with support networks, training and events across the county and offers a platform for them to share their experiences through the Carers Voices Network.
The focus of this year's celebrations was building supportive communities which look after carers and recognising that they are individuals with their own needs. In line with this, staff at Eastbourne, Hailsham and Seaford CCG and Hastings and Rother CCG raised £154 towards a well-deserved treat for the charity's hard-working staff and volunteers.
Staff at both CCGs wore purple one day to match the charity's branding. One of the hottest days of the year didn't deter some from wearing costumes, including a furry onesie and a bright purple wig!
'The Great NHS Bake Off' was held at the end of the week and medically-themed cakes were encouraged. Among the winners was a chocolate sponge covered in jelly bean 'pills' and an impressive 'caesarean-section birth' cake! All proceeds from cake sales went towards the total raised for Care for the Carers.
Surveys have revealed that the majority of carers in the UK don't feel valued or that people understand the role that they play. Carers are integral to our local communities and their dedication to an under-appreciated job is inspiring. Without them, the work we are trying to do through the East Sussex Better Together Alliance would not be possible.
To find out more about Care for the Carers, visit their website at www.cftc.org.uk .