Join us in celebrating ten years of Older People's Day in East Sussex with a packed programme of events, coming soon to your area.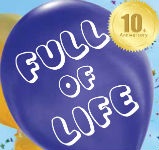 People in the UK are living longer, which is great news, and East Sussex has a much older population than the UK average, with 24.9% being over 65 in 2015. We've been ranked in the top five places to retire and with the beautiful rolling countryside and idyllic coastal towns, it's no wonder that many people choose to move here in their later years.
No matter where they live, as a person gets older, they are likely to experience one or more of the following; physical isolation, lack of companionship, loss of independence or the absence of a responsible role in society. All of these situations can leave somebody more vulnerable to some serious physical and mental health issues.
There are many ways to combat these negative effects on your health and wellbeing when you get older. Volunteering in the community, attending a book club, learning a new skill and joining a local leisure centre are all great examples of how to stay social and active. Doing any of these simple activities can bring a wealth of benefits, including a sense of belonging, feeling healthier and young at heart, increased confidence and general feeling of wellbeing and improved quality of life.
1st October 2017 is Older People's Day – an annual event to celebrate our older population, recognise their valuable contributions to society and to examine issues that affect their lives. This year is a special one as it is the 10th anniversary, and we have worked together with seniors' forums, the voluntary sector and community groups to commemorate the occasion with an exciting programme of events taking place throughout September and October. From film clubs to farm visits, historical lectures to 'how-to' workshops, and plenty of cake-related gatherings, there is something for everyone!
Many of the events are free or offer free tea and cake, but some do require booking ahead – and we think they will be popular! A full programme is available via this link [pdf] and there are printed booklets available at libraries and council offices across the county.
We'd urge you to take a look at the options available in your area, either for yourself or and older person you know or care for – you're bound to find something inspiring. If you have trouble with travel arrangements, visit eastsussex.gov.uk/communitytransport for information about your local community transport scheme.
We're looking forward to another fun-filled year and hope to hear all about the events you've attended or been involved in. Visit the East Sussex County Council website for more information.