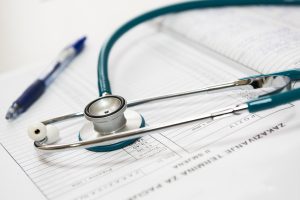 National research has found people with learning disabilities have poorer health than the general population, much of which is avoidable. This health inequality can start early in life as a result of barriers to accessing timely, appropriate and effective health care. Poor health can in turn impact quality of life and life expectancy.
ESBT's Healthy Hastings and Rother Programme is committed to reducing health inequalities amongst vulnerable population groups, including people with learning disabilities, so is funding work which aims to improve existing services and better meet people's healthcare needs.
Primary Care Learning Disabilities Liaison Project
To help people with a learning disability in Hastings and Rother access effective healthcare when they need it, the Primary Care Learning Disability Liaison (PCLDL) project commenced in 2017 for two years. A Learning Disabilities Nurse and project officer have been appointed by NHS Hastings and Rother Clinical Commissioning Group (CCG) to work closely with GP practices and people with learning disabilities.
We spoke to Learning Disabilities Nurse Erica Pope to learn more about the project now it's entered its second year. Erica says;
''A top priority for the project is ensuring people with a learning disability are identified on a learning disability register at their GP practice. This means practice staff are aware of the person's learning disability so they can make reasonable adjustments if needed. It also ensures anyone over 14 years old is invited to an Annual Health Check and provided with a Health Action Plan to support their health needs. Work done by the team has resulted in an additional 394 people being added to registers to date, which we're extremely pleased about.
We also focus on increasing the number of Annual Health Checks carried out, as these are an important opportunity for identifying ill health that may otherwise go undetected, and proactively keeping people well. We actively promote the checks to people with a learning disability and their care givers, to make them aware of their entitlement and empower them to request a check if they're not invited for one. This work has led to an increase in the number of checks being carried out.
Providing important information to people supporting the individual, to help them understand and meet each person's specific needs, is also key. ''This is me" Care Passports ensure information is in one place, in a format that can move with them between their home and care or health settings. This isn't just information about their health, but also details such as likes and dislikes, methods of communication, interests and the important people in their life. To increase the number of care passports being used, we've been raising awareness with health and care staff, people with learning disabilities and their carers. Following this work, the Acute Liaison Nurse at East Sussex Healthcare NHS Trust has reported an increase in the number of patients arriving at hospital with care passports.
Finally, we recognise the importance of training being available to all practice staff in order to raise awareness, and also provide sessions for GP's, health and care staff on effectively supporting people with learning disabilities as well as offering training on how to use the Annual Health Check template.
The project has delivered positive results for local people in Hastings and Rother so far and we have a number of future priorities to continue this progress and ensure the highest levels of care are maintained for people with a learning disability. "
For further information on this project please contact Erica Pope, Learning Disabilities Nurse at Erica.pope@nhs.net or Angela Hatcher, Admin Support at angela.hatcher@nhs.net 01424 735600 option 2 extension 5227.