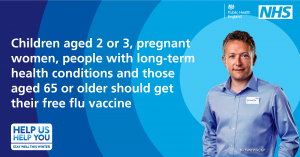 Having the free flu jab could stop vulnerable people ending up in hospital, or even dying, this winter, the local NHS is warning.
Last year, over 500 people ended up in hospital across Sussex due to flu and there was also a small number of deaths as a result of the viral infection. The influx of people needing medical care due to flu caused extra strain on hospitals last year and cost the NHS around £1.2m.
Local doctors believe this could have been avoided had those eligible taken up the opportunity to get their free jab.
Allison Cannon, Chief Nurse and Director of Quality for East Surrey and Sussex Clinical Commissioning Groups, said:  "Flu is potentially a very serious illness, and the flu vaccine is the single best way to protect yourself and help ease pressures on your local NHS. This year new and improved flu vaccine comes in time for winter, which is expected to be extremely difficult for the NHS.
"Last year, around 1 in 4 of those eligible in the region did not claim their free flu jab. This year, residents should be vaccinated as they will be better protected from flu than ever before. We hope this improved vaccine will help ease pressures on local health services by leading to fewer avoidable GP appointments, fewer people needing hospital care and fewer deaths from flu."
This year's improved vaccine contains extra ingredients designed to help people's immune systems develop a stronger defence against flu. The vaccine helps protect people from symptoms of flu, which includes a dry, chesty cough, a headache and a sore throat.
Those who could get seriously ill if they get flu and possibly require avoidable hospital admission can claim a free flu jab, including:
adults aged 65 and over
adults aged 18 to 64 with a long term health condition
children aged 2 to 3 at their GP practice
school children in years reception, 1, 2, 3, 4 and 5
pregnant women
health and social care workers
carers
People identified at risk of complications can receive the flu vaccine through their GP, and from their local high street pharmacist.
The childhood vaccination programme has been expanded so children from age two up to Year 5 in primary school are offered a flu nasal spray, protecting children and anyone they come into contact with. However, thousands of local two and three year olds are missing out on their free flu vaccine, putting them at risk of becoming seriously ill if they get flu and badly affecting their wider family. Just over 34% had the child-friendly quick and painless nasal spray by the peak of last year's flu season in East Sussex. It is important to get children vaccinated even if they had the flu vaccination last year.
This year, the vaccine will be available free on the NHS for eligible children, including:
children aged 2 and 3 on August 31 2018 at GPs
children in reception class and school years 1, 2, 3, 4 and 5 at school
children aged 2 to 17 with long-term health conditions at GPs
Find out more about the children's flu vaccine at www.nhs.uk