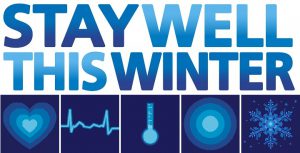 As the nights draw in and the temperatures drop, our health can really take a hit. It's particularly important to look after ourselves during the winter and to check in on friends, neighbours and relatives who might be more vulnerable.
Here are our top tips for staying warm and well this winter.
Have your flu jab
We mentioned last month how important it is to get the flu jab early on in the season. It offers the best protection against the flu and certain high-risk groups can get it for free, including over 65s, pregnant women, carers and some young children. Talk to your GP, practice nurse or pharmacist for more information.
Keep your medicines cabinet well stocked
Many winter illnesses can easily be treated at home with advice from the NHS website and a range of medicines you can buy over-the-counter. Speak to your pharmacist for advice on what to keep in your medicines cabinet at home, or click here to download an interactive guide.
Order your repeat prescriptions early
If you take any regular medication, order your repeat prescription early so you don't get caught out over a weekend or holiday period as your GP practice will be closed and most pharmacies will have limited opening hours.
Stay warm
Cold weather can affect our health so it's important to stay warm in and outside of the home. Living in a cold home can make a range of conditions worse, such as breathing difficulties and heart problems, and can impact your mental wellbeing. Visit the Warm East Sussex website for tips to keep your house warm this winter and find out more about the free Warm Home Check service.
If you are heading outside in cold weather, make sure you wrap up warm to protect yourself from becoming ill. Sign up to the Sussex coldAlert service for notification of severe cold weather, particularly if you are, or care for, an older person or an individual with a pre-existing medical condition which makes them more vulnerable to severe weather conditions.
Eat well
Food provides energy, which helps to keep you warm, so have regular hot meals and drinks throughout the day. Try a warm bowlful of porridge for breakfast to help you feel fuller for longer and top with sliced banana, berries or other fruit for extra flavour and to help you hit your 5 A Day target.
Look after your mental health
Darker days and cooler temperatures can affect our mental health so it's important to get out in the daylight and stay active, even for a short time, as it can give our mood a much-needed boost and stop us from feeling overtired.
The new East Sussex Mental Health Directory was launched last month and is full of free services available to support your mental wellbeing. East Sussex Community Information Service (ESCIS) is also a great resource which brings together events, clubs and organisations from across the county. Take a look today to find something you enjoy, meet new people and stay happy and healthy all year round.
Vulnerable people who feel lonely and isolated might feel worse when the seasons change. Popping round for a cup of tea and a chat with an older neighbour or relative can make a big difference to how they are feeling.
For people with social anxiety, Christmas can be a really difficult period with large get-togethers and celebrations filling up the diary. There is lots of information and advice available on the Moodzone.
Choose well
If you do feel unwell, make sure you use the right service for you. Pharmacy? GP? Walk-in centre? Click here to find out more about local services and how they can help.