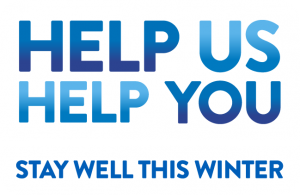 Last month we shared some top tips on keeping warm and well this winter. If you do become unwell, it's important to choose the right service for your need.
NHS emergency services are there for you in emergency and life threatening situations. For medical treatment when it is not an emergency, there are other services available.
Here we share information on the non-emergency services available locally to help you.
NHS website
Visit www.nhs.uk to:
Check your symptoms to see if you need further treatment
Better understand your health so you can stay well
Find out what services are available if you need treatment
Call NHS 111
NHS 111 is available 24 hours a day, 7 days a week and is staffed by a team of fully trained advisers. Depending on the situation, they can connect you to a nurse, emergency dentist or even a GP, and can arrange face-to-face appointments if they think you need one. Calls are free from mobiles and landlines.
Visit your local pharmacy
There are many local pharmacies on the high street, in supermarkets and shopping centres. You don't need an appointment and they can offer expert advice on bugs and viruses, minor injuries, tummy troubles, skin conditions and allergies. Click here to find your nearest pharmacy in Hastings and Rother. Click here to find your nearest pharmacy in Eastbourne, Hailsham and Seaford.
Visit your GP
GPs help with treatment and advice for health problems and minor injuries. You may not be able to get an appointment immediately but practices will see you as soon as possible. Some surgeries are open in the evenings or at weekends, so contact yours to find out their opening times.
The reception team may ask what the problem is so that they can refer you directly to a more appropriate healthcare professional or service, such as a physiotherapist or mental health support, saving you time.
Walk-in centres are open 8.00am to 8.00pm every day. They provide GP services when your surgery is closed and you can't wait for an appointment. Your closest walk-in centres are located at:
Visit a Minor Injuries Unit
Minor Injuries Units (MIUs) provide assessment and treatment for a wide range of minor injuries in both adults and children. They can be found at Crowborough, Lewes and Uckfield community hospitals and are open from 8am – 8pm, seven days a week.
Emergency Dental
For help finding an NHS dentist, call the Dental Helpline on 0300 123 1663. If you need emergency advice and treatment out of hours, call NHS 111 or:
Eastbourne: (01323) 449170 from 6.30pm – 10.30pm weekdays or 1pm – 5.30pm weekends and bank holidays.
Hastings: (01424) 850792 from 6.30pm – 10.30pm weekdays or 9am – 1.30pm weekends and bank holidays.
Lewes: (01273) 486444 from 6.30pm – 10.30pm weekdays or 9am – 1.30pm weekends and bank holidays.