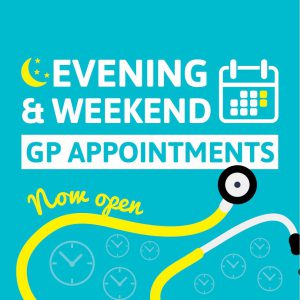 Patients in the NHS Eastbourne, Hailsham and Seaford Clinical Commissioning Group (CCG) and NHS Hastings and Rother CCG areas will now find it easier to see a GP, practice nurse or other health professional at a time more convenient to them, with appointments available on weekday evenings, over the weekend and at bank holidays.
The new improved access service means that in addition to the current appointments available, patients will also be able to book to see a health care professional in the evenings on weekdays, with appointments available in the morning on Saturdays, Sundays and Bank Holidays. You can get more information by calling or visiting the GP practice where you are registered.
These new appointments may be at your GP surgery, another GP surgery in the local area or via telephone consultation. If your appointment isn't at your usual surgery, the person you see will have access to your medical records if you give them permission, just like seeing a locum at your regular surgery. You will be asked before any of your information is accessed or shared.
The following practices listed will offer the improved access appointments (in addition to their normal surgery hours) on a rotational basis, taking turns to offer the additional appointments on different days:
Bexhill – Pebsham Sea Road Surgery
Central Hastings – Station Practice
Central St Leonards – Warrior Square Surgery
Eastbourne – Harbour Medical Practice
Eastbourne – Park Practice
East Hastings – Beaconsfield Ore Satellite Surgery
Hailsham – Quintins Surgery
Rural Rother – Rye Medical Centre
Rural Rother – Sedlescombe Surgery
Seaford – Old School Surgery
Seaford Medical Practice
West St Leonards – High Glades Medical Practice
In a joint statement, Dr David Warden, Chair of Hastings and Rother CCG and Dr Martin Writer, Chair of Eastbourne, Hailsham and Seaford CCG said:
"We are delighted to be working with Integrated Family Healthcare Ltd and South Downs Health and Care Ltd, the local GP federations, and Here, a not-for-profit social enterprise to be offering these additional appointments at evenings and weekends. They will make it easier for patients to get an appointment, especially those that are working 9am-5pm, and will also help manage pressures on urgent and emergency care services."
If you need to cancel an improved access appointment please call your own GP surgery during normal opening hours to let them know so someone else can benefit from the appointment slot.