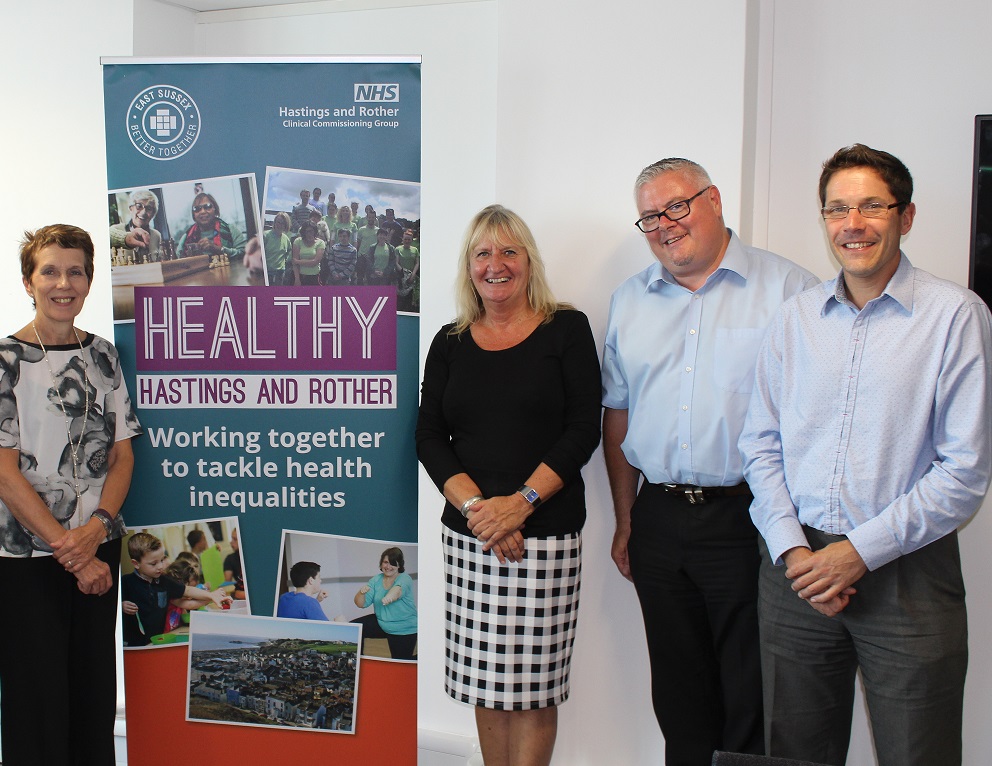 In 2017, we told you about new Health and Wellbeing Community Hubs launched in Hastings and Bexhill.
The Hubs are the result of joint working between local voluntary and community organisations, and NHS Hastings and Rother CCG's Healthy Hastings and Rother Programme, which aims to reduce health inequalities in the area.
One year down the line, find out how the Hubs are helping their local communities.
Where are the Hubs?
The Hubs are based in North East Hastings, North West Hastings, Central St Leonards, Central Bexhill and Sidley.
What's on offer?
The Hubs have a wealth of knowledge on what's happening in the community, run free courses, host events and have a range of volunteering opportunities. Volunteers are an extremely important part of the Hubs' success, and now lead a number of workshops, from crafts to music, and drop in sessions to link people to local services.
Carole Dixon, Chief Executive at Education Futures Trust, who run the North East Hastings Hub said;
''Our volunteering programme has recently supported six volunteers from the North East Hastings Hub to move into paid employment as a direct effect of confidence building and gaining new skills through volunteering within our café.''
It's also an opportunity to make important connections with other people, one volunteer says;
"After experiencing what I have, it makes me want to help others who may struggle with mental health issues or just general life stresses. At the café I don't just get to bake and make coffee, I get to talk to different generations and people, and I hope that by just simply saying hello it will help anyone who enters the café feel less alone."
Tracey Rose, Chief Executive at the Fellowship of St Nicholas who run the Central St Leonards Hub, agrees that for volunteers and those taking part in the free courses and activities, there are a range of benefits;
''The hub activities have resulted in raised confidence, self-esteem, resilience, and improved stress management for residents who attend. Through their involvement people are also making friendships, helping them feeling less isolated and more supported.''
One local resident began by attending a mindfulness course run by their Hub and now volunteers there regularly. They said;
"I've found mindfulness to be particularly helpful and I attended six mindfulness walks during the summer break. As I suffer from agoraphobia, I need to have a taxi to get me around. I felt so relaxed from the mindfulness walks; I was able to walk there for the first time in the final session! It was so exciting not to rely on the taxi and feel able to make my own way there, I use the mindfulness techniques every time I leave the house.''
Both Bexhill Hubs – The Charter and The Pelham – have seen their local communities and organisations become increasingly involved in Hub life, and offer a broad range of volunteer run projects.
At The Charter you can learn to cook with "Man With A Pan", join Rainbow Alliance supper clubs, visit the community cafe and enjoy one-off events. Soon the Hub will be working closely with the local food bank and on projects to support homeless people.
At The Pelham you can get active with the Green Gym, Family Fun Fitness and Walk2Run, or visit the Coffee Lounge. The Coffee Lounge also provides free hot meals as a gift to those who are receiving food parcels from the Bexhill Foodbank. Recently The Pelham also successfully secured £105,000 of capital funding from the Biffa Award and the Rother Community Grant Scheme Council to improve the Hub building itself.
Looking ahead, the Hubs will continue to establish closer links with local GP practices and continue their work to secure funding to support future health and wellbeing activities that will benefit their communities.
How to find out more?
Get in touch for more information about the Hubs:
• North East Hastings – Education Futures Trust: hub@educationfuturestrust.org / Click here to visit the website.
• North West Hastings – Fellowship of St Nicholas: enquiries@fsncharity.co.uk Click here to visit the website.
• Central St Leonards – Fellowship of St Nicholas: mhooper@fsncharity.co.uk / Click here to visit the website.
• Central Bexhill – Sussex Community Development Association: ruairi.mccourt@sussexcommunity.org.uk / Click here to visit the website.
• Sidley Bexhill – The Pelham:                                               office@thepelham.co.uk / Click here to visit the website.