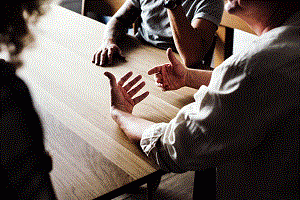 In Eastbourne, nursing and social care teams have come together to trial working from a shared base for the first time.
The East Sussex Healthcare NHS Trust District Nursing Team has moved to join Neighbourhood Support Team colleagues from East Sussex County Council at St Mary's House in Eastbourne. Occupational Therapy, mental health and Health and Social Care Connect teams are already based within the building.
This new, joint approach will lead to better outcomes for local people, as by working more closely together, the team are working towards delivering a more connected and appropriate care and support service. The move will also mean improved information sharing and less duplication for members of staff – ensuring that the focus of the teams' work is on delivering high quality care.
As more people require long term support from the NHS and social care services, services need to adapt and make sure they are provided in a joined up way. Research has shown that co-location is the greatest support for joint, partnership working.
This new arrangement will guide how joint working works best, and primary care staff (such as GPs) mental health and voluntary services will also be involved in the future of the process.
Two of the NHS Lead Nurses say:
''Being physically based together with our Adult Social Care colleagues in Eastbourne has already provided great opportunities that have benefited local people. We're able to communicate face-to-face, which is much quicker than the numerous phone calls and emails, and share information enabling us to establish good working relationships and provide better, shared care. Fewer delays mean that we are providing people with the care they need, when they need it. We have even enjoyed an office "bake-off" too…!''
A Senior Practitioner in the Neighbourhood Support Team says;
''The nursing team moving to be based with us in St Mary's house has been a positive move for both teams and our clients. I'm enjoying getting to know nursing colleagues better and working alongside them more closely.''