Take part in the survey and share your views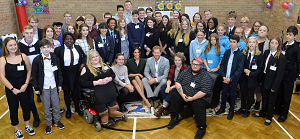 Young people have said they would like parents and carers to be better informed and equipped to support their emotional wellbeing.
Therefore, East Sussex Youth Cabinet and Seaford Youth Forum are working with Seaford Head school, supported by East Sussex County Council and the Clinical Commissioning Groups, to create an information campaign for parents and carers to help them better support their children's emotional wellbeing. It will include some 'top tips' for parents and carers about existing information and give practical advice.
East Sussex Youth Cabinet were recently involved in work to develop Top 10 Tips for schools to improve mental health and wellbeing, which they discussed with the Duke and Duchess of Sussex during their first joint official visit to the county.
To help identify what tips would be helpful for parents and carers and how best to promote them, two surveys have been developed to understand what parents and carers and young people think about these issues now.
This is your chance to get involved and give your views, which will help to shape the information campaign, launching in autumn 2019.
To take part:
Click here for the parents and carers survey. 
Click here for the young people's survey.
The survey is open until 7 June.