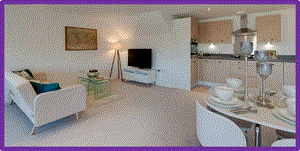 You've probably heard of residential care and sheltered housing, but have you heard of Extra Care?
Extra Care housing is for older people with care and support needs who want to continue to live independently.
Extra Care housing schemes offer residents specialised flats with scheduled care and support for everyday living, from a team of professional carers onsite 24 hours a day. The schemes help people to stay living in the community and, in some cases, are an alternative to a residential or nursing home. Another benefit is that the care you receive can be tailored to meet your needs. It also provides a range of onsite facilities.
In East Sussex we have seven Extra Care housing schemes, which offer accessible one and two bedroom flats. Most schemes offer:
Communal lounges and resident activities, to help people to make connections and friendships, and reduce social isolation
Onsite facilities like a restaurant, fully equipped laundry, hairdressers and buggy store
Assisted bathrooms
Lift access
A community alarm service and the capability for assistive technology
Gardens
Who can access Extra Care?
Everyone living in Extra Care housing has been assessed by Adult Social Care, and has an eligible care and support need.
A social care needs assessment is where Adult Social Care looks in more detail with you at your needs and strengths, to find out if you have eligible needs and what sort of social care support would help. If you have eligible needs, Adult Social Care will also complete a financial assessment with you, to tell you what you'll need to pay. Most people pay some or all of the costs of their care.
If you'd like more information on Extra Care housing visit the East Sussex County Council website, or call Health and Social Care Connect on 0345 60 80 191.