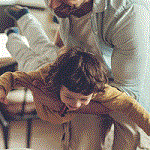 In July 2018 a new initiative called the 'The Mental Health and Wellbeing Prescription Pad' launched in GP surgeries in Hastings and Rother, and from April 2019 it will be rolled out to more GP practices in East Sussex.
The Prescription Pad helps GPs to signpost parents and young people with a range of emerging emotional wellbeing concerns to projects that offer early help, without the need for a formal referral. These are:
Open for Parents, who deliver Triple P – the Positive Parenting Programme. Triple P has been shown to prevent and treat behavioural, emotional and developmental problems in children by enhancing the knowledge, skills and confidence of parents.
i-Rock, a drop-in service for 14-25 year olds offering support for emotional and mental wellbeing, as well as advice and guidance about employment, education and housing.
Both projects are part of 'Healthy Hastings and Rother' – a programme to tackle health inequalities in the area.
The Prescription Pad is like a traditional notepad, with pages that can be torn off. It contains easy-reference information for GPs to provide top tips to the young person, their parent or carer, with a recommendation to seek support and information about how to do it.
Dr Naomi Konu from the Harold Road practice in Hastings said:
"The mental health and wellbeing prescription pad is a simple way to signpost people to a range of i-Rock and Triple P services in a way that's easy to understand and follow up on. We've been using them in the surgery and they have proved to be a real success with the number of sign-ups to services increasing since their introduction."
The Prescription Pad is a joint venture between Sussex Partnership NHS Foundation Trust, East Sussex County Council and NHS Hastings and Rother CCG. It was produced with the involvement of GPs, parents and carers to meet the needs of patients asking for advice and support at local surgeries.
In many cases parents were experiencing stress, anxiety and depression due to balancing family life and dealing with challenging parenting issues. Young people would often present with mental health and emotional wellbeing concerns that would not meet thresholds needed for a Child and Adolescent Mental Health Service (CAMHS) intervention. GPs wanted a tool to encourage parents and young people to access available services.
The Prescription Pad is now regularly being used in nine surgeries and from April 2019 is being rolled out to more practices across the county.