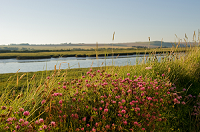 Over the last few years East Sussex Healthcare NHS Trust, East Sussex County Council, Sussex Partnership NHS Foundation Trust, Sussex Community NHS Foundation Trust, and our East Sussex Clinical Commissioning Groups* have been working closely together, and with wider partners, through East Sussex Better Together (ESBT) and Connecting 4 You (C4Y) to improve population health and wellbeing and reduce health inequalities, by breaking down barriers between health and social care to deliver the right services, in the right places, at the right time.
Thanks to this work we are seeing more treatment, care and support being delivered where people want it – in their own homes or locally in their community, by teams of GPs, nurses, therapists, social workers and proactive care practitioners from both the NHS and adult social care.
This shift in the way we provide health and care means that many people are avoiding hospital altogether. And when they do need planned or urgent hospital care they are able to see clinicians and receive treatment more quickly and spend fewer unnecessary days in hospital, with better support when they go home.
Next steps
To build on these successes and strengthen our work across the county, we now plan to bring the two East Sussex programmes (ESBT and C4Y) together, to establish a single health and care programme across the whole of East Sussex. This will be led by an executive group made up of senior leaders from acute and community care, primary care, mental health services, social care and commissioning.
The new executive group will be held to account by the East Sussex Health and Wellbeing Board (HWB). The HWB includes representatives from Healthwatch East Sussex, the voluntary sector, and District and Borough Councils.
By working in such a joined-up way, we believe we're able to serve the whole of East Sussex even more effectively.
This approach aligns closely with the priorities set out in the NHS Long Term Plan and East Sussex County Council's 2019/20 Council Plan.
We'll continue to monitor and develop our established projects, initiatives and services, and we will also work on new ideas to further improve the health and wellbeing of local people right across East Sussex, including developments in primary care, community care, planned and urgent care.
As these developments evolve, we'll continue to seek the involvement of local people and our stakeholders, to ensure care is built around our residents and their experiences.
 Stay up to date
We'll continue to keep you up to date on the progress of integration in East Sussex, but keep an eye out for changes coming to our newsletter and website over the next month or two. You can sign up to the newsletter here.
*Eastbourne Hailsham and Seaford Clinical Commissioning Group Hastings and Rother Clinical Commissioning Group, High Weald Lewes Havens Clinical Commissioning Group