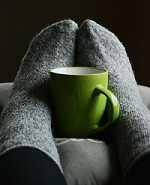 Despite the heat wave, it's not too soon to plan ahead for winter
Given the recent soaring temperatures, it certainly doesn't seem like the time to be worrying about winter. However, spending the cooler months in a cold, damp home can have a huge impact on our physical and mental health, causing more frequent coughs and colds, as well as more serious health conditions such as heart attacks, strokes, pneumonia and depression.
That's why the East Sussex Warm Home Check service is encouraging people to plan ahead and think about preparing their home for winter.
The Warm Home Check Service offers advice to anyone who struggles to afford to keep warm at home. It provides eligible households with a holistic home assessment, small insulation or heating improvements, and tips to save money on the cost of keeping warm.
As part of the service, East Sussex County Council has been awarded funding from National Grid's Warm Homes Fund, which is enabling the installation of at least 100 new gas central heating systems free of charge to vulnerable residents, such as older people or families on low incomes. Applications will be considered from homeowners or private tenants living in towns or built-up areas of East Sussex who don't currently have mains gas central heating and are on a low income.
As part of an evaluation, researchers from the University of Brighton spoke to local people who have benefitted from the Warm Home Check Service. Support provided has ranged from simple but effective things such as energy saving light bulbs and draught-proofing, to whole new central heating systems including boilers and radiators (where funding has been available from grant schemes). The effects on clients' health and wellbeing have been far-reaching, with people reporting a reduction in chest infections and symptoms of long-term conditions, as well as feeling a lot happier and less stressed.
Mr B said that he doesn't know how he would have managed the winter without his new heating system and "was really pleased I made that phone call".
Miss C was extremely satisfied with her experience of the Warm Home Check Service and the quality of the work carried out. She described the service as being "there for the people that really need it".
Miss E described that her "house has now become a home" and said that the service is "priceless for a million reasons".
If you think you, or someone you know, might qualify, you can apply for a free Warm Home Check. Visit www.warmeastsussex.org.uk, text WARM to 81400, speak to your local Citizens Advice office or call the charity's Adviceline on 03444 11444.
The funding for East Sussex comes from the £1.5 million Warm Homes Fund established by National Grid and administered by community interest company Affordable Warmth Solutions, on behalf of National Grid.