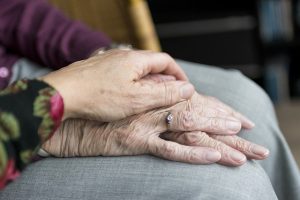 Loneliness and social isolation are major problems for the estimated 850,000 people in the UK who are living with dementia. In a small village in East Sussex, a vibrant community hub knew exactly how to help and support those affected in their area.
Aiming to reduce loneliness and isolation in the older community, Rotherfield St Martin (RSM) is a community-led charity situated in a rural village in East Sussex. This vibrant hub offers a daily programme of activities, classes, and social gatherings, giving the older people of Rotherfield somewhere to go and socialise.
As part of its programme, it also runs specialist activities for those living with dementia. These activities not only support the person affected but also give carers some respite. Though, as the dementia journey progresses, people find it harder to get out of the house to attend these events and gatherings, leading to increased isolation.
This lack of social interaction can be detrimental but RSM envisioned an out-reach programme where trained volunteers and qualified practitioners could take the dementia support out into the homes of those affected, helping to enhance wellbeing.
Through this, the dementia support in the community crowdfunder was born.
Louise Hawley, RSM's Charity Fundraiser, said, "Having never Crowdfunded before, we weren't really sure what to expect or what we would gain from it. You see, we were notified of a local competition being run by the County Council in conjunction with Crowdfunder so we decided to submit an application (at that stage we were not feeling too confident but wanted to give it a go!) We were surprised and delighted to be selected as one of the five winning competition entries. Once we had been notified that we were one of the winners, we were guided through the process every step of the way by the wonderfully helpful Max Upton, our crowdfunding mentor. With Max's guidance and support, we set about building our campaign."
Initially, RSM hoped to raise £3,000 in order to pay their dementia practitioners, recruit and train their dementia support volunteers, and advertise the service to the wider community.
After 35 days, their project exceeded their original target and went on to raise £3,100 from 56 supporters. This included the extra funding grant of £1,000 from East Sussex County Council's Building Stronger Communities Fund which supports not-for-profit organisations that develop community facilities and activities.
"The extra funding from East Sussex County Council was a very welcome addition to our fundraising and means we have the capacity to recruit and train more volunteers to support people living with dementia in the community. Probably as important, though, was the recognition from the County Council that they were aware of the work of the charity and were supportive of what we do."
When asked about the impact their crowdfunding project had on the community, Louise said, "Crowdfunding gave our small charity a platform to engage with our wider community. It brought attention to the work of our charity and, more importantly, it shone a spotlight on the needs of isolated, older people living with dementia."
She continued, "Our project is still in its infancy and we are currently promoting the work of the project to local GP practices, recruiting and training volunteers, beginning to work with people living with dementia, and taking our services out onto the road and into people's homes. We are already receiving very encouraging feedback with people telling us what a positive impact it is having on their lives. Knowing that a volunteer will be visiting breaks up the day, provides social contact and new supportive relationships are formed."
After closing successfully, receiving an extra funding grant, and beginning their mission of taking dementia support into the community, RSM's Louise left us with her top tips for anyone looking to crowdfund:
"Give it a go! My advice would be to ensure you have sufficient time to attend to your campaign and maintain momentum. Get as many supporters as possible on board and use your contacts to spread the word far and wide. Also, use the support that Crowdfunder offer. They are the experts and can give invaluable tips and guidance throughout the process."