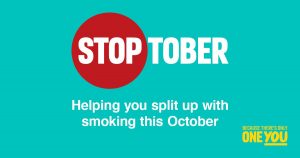 This Stoptober, smokers are being encouraged to end a bad relationship and split up with smoking for 28 days from 1st October.
The latest data from the UCL Smoking Toolkit Study suggest a 2.2% drop in adult smoking rates so far in 2019. Public Health England is encouraging England's remaining smokers to join in with the nation's biggest quit attempt, and is providing them with the information and support they need to split up with smoking now.
If you're a smoker, quitting is the best thing you can do for your health and the health of those around you. Whether you've tried to quit before, or this is the first time, Stoptober is encouraging you to become part of the movement and join thousands of people who are splitting up with smoking this October. If you make it to 28 days, you're five times more likely to stay smokefree.
Stopping smoking can significantly improve your lifestyle and health in ways you might not expect. After the last cigarette, you can expect your pulse rate and oxygen levels to return to normal, improved sense of taste and smell and increased energy levels – all within the first 72 hours. Within 10 years, the risk of lung cancer falls to half that of a smoker. A 20-a-day smoker could also save almost £4,000 a year by stopping smoking.
People who quit smoking with expert support are three times as likely to quit successfully as those who try to quit unaided. There's a range of free support available as part of Stoptober, including an app, a Facebook messenger bot, daily emails, a Personal Quit Plan and online communities.
Smokers can also get expert face-to-face support from local stop smoking services and advice from their GP or pharmacist, including what stop smoking aids might be right for them. Like any relationship breakdown, support from friends and family is vital and so smokers are encouraged to talk about their decision with those around them.
For more information and to access stop smoking support, visit the Stoptober website or search 'Stoptober' online.
You can also visit the One You East Sussex website at any time for support to quit smoking.