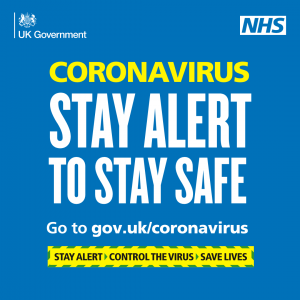 On Monday 11 May the government issued new coronavirus guidance and rules on what you can and cannot do, which you can find in full on gov.uk. This forms part of the government's second phase of the fight against the disease.
The new advice includes the importance of staying alert, controlling the virus, and in doing so protecting the NHS and saving lives. This means you must:
stay at home as much as possible
work from home if you can
limit contact with other people
keep your distance if you go out (2 metres apart where possible)
wash your hands regularly
Do not leave home if you or anyone in your household has symptoms. Read the advice on self-isolating at home.
People who are clinically vulnerable should continue to take particular care to minimise contact with others outside their household. Shielded people are still being advised to shield at home until the end of June.
In East Sussex you can still get help through your nearest community hub if you're struggling with the effects of coronavirus and don't have any one who can support you.
The NHS in East Sussex and East Sussex County Council are closely examining the government's plans to exit lockdown, called 'Our Plan to Rebuild', and discussing what they might mean for us. We will carefully consider any changes we think we need to make to how we're working, and how to implement them.
Face coverings
The government has also advised people to wear face coverings in enclosed public spaces where social distancing isn't possible, or where you're more likely to come into contact with people you don't normally meet. For example, on public transport or in some shops.
This is to help reduce the spread of the disease when someone has it but isn't showing symptoms. People with COVID-19 symptoms should still self-isolate.
Face coverings are not compulsory, you can choose whether to wear one.
You can make your own face covering at home, which can be as simple as a scarf or bandana, and they need to be washed after every use. This guidance advises how to make and use them.
Face coverings are not a replacement for social distancing and regular handwashing, which is still the best way to reduce the risk of spreading the virus.
They're also not the same as the surgical masks or respirators used as part of personal protective equipment (PPE) by health and care workers. You should not purchase surgical masks or respirators, as these are prioritised for healthcare workers who need them most.
For more information on face coverings visit gov.uk.