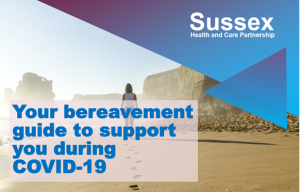 Sussex Health and Care Partnership has launched a new bereavement guide to support people during the pandemic. It offers advice on practical requirements, how to arrange a funeral and services to contact if people need someone to talk to.
People can get support over the phone by calling the new Sussex Bereavement Helpline on 0300 111 2141, Monday to Friday from 8am to 5pm. The helpline is run by a team of experienced support workers who can talk people through the tasks that need to be completed after a death and sources of help and support for the bereaved as they grieve.
If you would like to request a paper version of the guide please contact the West Sussex Clinical Commissioning Group Public Involvement Team:
Email: sxccg.involvement@nhs.net                               Phone:  01903 708 411
Post: FAO Vicky Smart, Public Involvement, Wicker House, High St, Worthing, BN11 1DJ
Local bereavement support services
The new guide lists a range of national and local sources of support. Locally, Sussex hospices and palliative care services provide bereavement services to family and friends of people who were under the care of the hospice before they died. Some may also provide bereavement services to a wider group.
Wilfrid's Hospice in Eastbourne is extending adult bereavement support to the whole community in response to the COVID-19 crisis. People can self-refer via the website or ring 01323 434 251 to ask for a call back. With their consent, people can also be referred by a professional through the website. The hospice's Seahorse Project continues to accept referrals for bereaved children.
St Michael's Hospice bereavement service continues to deliver bereavement counselling and support by phone to adults throughout Hastings and Rother. You do not need to have had any previous contact with the hospice to be able to access this support. People can access the service through the website or by phoning 01424 456 361 and leaving a message.
In Haywards Heath, Burgess Hill, Uckfield and Lewes bereaved people whose loved ones were under the care of St Peter and St James Hospice can access counselling support by getting in touch through the website or calling 01444 470 815.
National advice
The government has published What to do when someone dies guidance to help bereaved families, friends or next of kin make important decisions if they have lost someone during the COVID-19 pandemic.