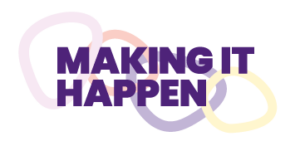 Have you ever had a good idea that you think could really help your local area or community, but haven't known where to start? Fortunately, expert help is now at hand from the Making It Happen team. Get in touch through their online form, and a member of staff could help you turn your idea into reality.
Making It Happen aims to help people to come together in their neighbourhoods to create positive change to the things that matter to them the most.
Once you get in touch, the team can provide as much or as little support as you need. From listening to your idea, to connecting you with others who feel the same, signposting you to training, or putting you in touch with people with the right expertise, resources, or information about funding – there are lots of ways they can help.
Fill out the form today to tell the team about your idea, no matter how big or small, and find out more about how they can support you.
What is Making it Happen?
Making It Happen is about discovering, celebrating, and building on the positive things in our neighbourhoods to bring communities closer together and create healthier and happier places. Support is provided by a partnership of voluntary sector organisations that employ staff to meet, listen to, and work with local people and organisations to make positive change.
Everywhere there are stories about people doing incredible things, often without even recognising how amazing they are.  Like the person making bee hotels, who together with his neighbours, is creating a bee corridor where they live. Or the school children and residents of a day centre for older people who became pen pals during lockdown. Or, the two residents with a passion for art who want to create a local network for residents to meet, make friends, and tap into their creativity.
Everywhere, there will be people who think your idea is amazing. Whether you have a fully formed idea, an interest that you would like to share, or place, like a park, that you think could be improved, contact the team to find out how they can support you.
For more information visit making-it-happen.org.uk.