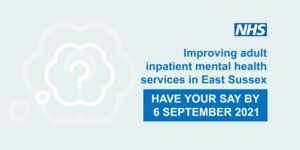 There's still time to have your say on mental health inpatient services in East Sussex.
The Sussex Health and Care Partnership want to improve mental health inpatient services in East Sussex for adults, older people, and those living with dementia. Help inform these plans by taking part in the consultation before 6 September 2021.
The consultation asks for views on proposals to move mental health inpatient services, currently provided at the Department of Psychiatry in Eastbourne District General Hospital, to new facilities to be built on a different site in either North East Bexhill or a site around Amberstone Hospital, near Hailsham. The Bexhill site is the preferred option.
If approved, this would be the first phase towards a potential long-term vision to create a leading centre for a range of mental health services on a single 'campus', which could, over time, address all mental health inpatient needs in East Sussex.
You can take part in the consultation online, by requesting a paper copy, or through a 1:1 or small group video or telephone interview. The closing date is 6 September 2021.
There's also an online public meeting on Tuesday 24 August, 6pm – 8pm.