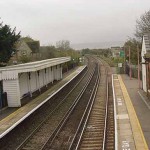 ELECTRIFYING two rail lines in East Sussex is the best way of improving capacity, reducing journey times and boosting the county's economy, a council chief has said.
East Sussex County Council has designated the electrification and dual tracking of the Hastings to Ashford and Uckfield to Hurst Green lines as its key priorities for improving rail infrastructure.
The council's Rail Strategy and Action Plan, 'Shaping Rail In East Sussex', outlines the authority's vision for services in the county and will be used to influence future rail investment decisions taken by the rail industry and Government.
The strategy, drawn up after a consultation with key stakeholders and including a rail symposium in September, was approved by Cllr Rupert Simmons, county council lead member for economy, at his latest lead member meeting.
He said: "Improving railway infrastructure in East Sussex will increase capacity, reduce journey times and enable access to jobs, education and training, all of which will contribute to the delivery of our key priority of supporting economic growth in the county.
"Having a Rail Strategy and Action Plan will put us in a strong position to inform key rail industry documents and in seeking funding to progress these improvements.
"They will also strengthen our longer term vision of strategic improvements on the Brighton to Ashford line, and in connecting Brighton to London via Uckfield."