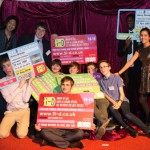 A NEW 'three-in-one' identity and discount card aimed at young people in East Sussex has been officially launched.
The 3i-D card enables young people to prove their age in cinemas, bars and shops, claim age-appropriate fares and selected reduced fares on bus travel and enjoy discounts in shops and leisure outlets.
The trailblazing scheme has been developed by East Sussex Youth Cabinet, whose members are elected to campaign and make a difference on issues which affect their lives and those of their peers.
The scheme, which is now available to youngsters aged 11 to 19 who live, work or study in East Sussex, was launched at an event at the Winter Garden, in Eastbourne.
Cllr Sylvia Tidy, East Sussex County Council cabinet member for children and families, said: "The 3i-D card is an excellent example of the value of the Youth Cabinet and its ability to bring about real benefits for young people.
"From coming up with the germ of an idea to bringing the scheme to fruition, this project has been entirely developed by the Youth Cabinet members themselves, who have put years of hard work into the scheme.
"The card is already proving very popular and young people across the county are continuing to sign up and enjoy the benefits."
Solomon Curtis, outgoing East Sussex Youth Cabinet member for Upper Rother and vice chairman of the British Youth Council, said: "From financial modelling to negotiating offers, 3i-D has been a completely youth-led scheme.
"It is a prime example nationally of how elected young people are improving the lives of their constituents."
Two versions of the card are available, for under-16s and 16 to 19-year-olds respectively, for a one-off charge of £12, while the card is offered free to young people from families entitled to free school meals.
The under-16 card ensures youngsters can claim child fares on all East Sussex bus routes through all companies, while the card for 16 to 19-year-olds offers child fares for off-peak travel during the week, at weekends and on Bank Holidays on Stagecoach buses.
All schools and colleges in East Sussex have been encouraged to register to support 3i-D and to promote the scheme to their students.
More information and details of how to sign up for a 3i-D card are available online at www.3i-d.co.uk