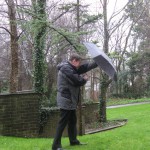 A major clean up operation is underway after heavy rain and strong winds caused chaos around the county.
In the space of 12 hours East Sussex County Council's highways team cleared more than 200 fallen trees and dealt with around 50 flooded roads.
Overnight teams from the county council's highways department and tree surgeons have been working to ensure as many roads as possible remain open and safe for motorists.That work has continued through Tuesday morning.
Resources are being reviewed every hour at the Control Hub in Ringmer to ensure work can be carried out to clear roads of fallen trees and debris as quickly as possible and get gullies cleared to reduce flooding.
Although the rain and wind have subsided, motorists are being urged to take care when driving as there is still debris in the road and isolated flooding.
The highways team expects more trees and branches to come down over the next few days and are asking the public to lookout for standing water, dangerous branches and damaged power cables.
Regular checks of the road network are being carried out, but fallen trees, flooding and other issues can be reported at www.eastsussex.gov.uk, by calling 0345 60 80 193, tweeting us @esccroads or sending a message to our Facebook page EastSussexHighways