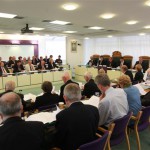 THREE closure-threatened waste sites in East Sussex could remain open under plans being considered by senior councillors.
East Sussex County Council had proposed closing household waste recycling centres in Forest Row, Seaford and Wadhurst as the authority faces a reduction in funding of around £70 million over the next three years.
However, after gaining further evidence of local demand for services following a consultation on the issue, the council's cabinet will now consider other options at its meeting on Tuesday, January 28.
The revised proposals would see all three centres remain open on Fridays, Saturdays and Sundays – the three days of the week which account for two thirds of traffic to the sites.
If the plans are approved, the authority would look at alternative ways of achieving the remaining savings which would be required from its waste management budget.
A representative of the residents who submitted a petition against the closure of the Seaford site will be invited to attend the cabinet meeting to allow them the opportunity to have their say.
The closures were proposed as part of a review of the East Sussex Waste Strategy, which sets out how the county's waste will be managed up until 2025.
The review, which was subject to a consultation which concluded in December, includes targets which could see more than 95 per cent of household waste diverted from landfill and 60 per cent of waste composted or recycled.
The cabinet papers for next week's meeting can be viewed online (agenda items 8, 9 and 10) at http://www.eastsussex.gov.uk/yourcouncil/about/committees/meetingpapers/cabinet/2014/28january.htm