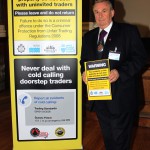 HOUSEHOLDERS in East Sussex can send a 'clear message' to cold callers with the help of a new scheme running in the county.
Residents are being offered a free 'super sticker' which they can display at their front door warning doorstep traders to stay away.
The scheme is being offered by East Sussex County Council in conjunction with Sussex Police, Brighton & Hove City Council and West Sussex County Council.
Cllr Rupert Simmons, East Sussex County Council lead member for economy, said: "Residents often find high-pressure doorstep sellers intimidating and can end up parting with cash which they had no intention of handing over.
"Many people don't want to be bothered by uninvited callers to their home, and in some cases cold callers can use their activity as a cover for committing crime.
"These new stickers will send a clear message to cold callers, and they are a powerful tool in the armoury of residents who are tired of being disturbed and want to say no to cold callers."
The super sticker scheme is designed to enhance the no cold calling zones which exist in the county, but anyone can display them regardless of whether they live in one of these zones.
The wording on the stickers is legally binding so that if one is displayed but traders persist in cold calling, they could be prosecuted under consumer protection regulations.
Anyone who would like to order a sticker is asked to call the Citizens' Advice consumer service on 08454 040506.
Photo: East Sussex County Council chairman Cllr Colin Belsey with one of the new 'super stickers' aimed at deterring cold callers.