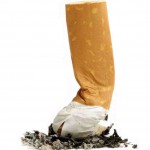 A SHOPKEEPER who sold a packet of smuggled tobacco to Trading Standards officers in Eastbourne has been handed a £200 fine.
During a test purchase at the now closed Convenience Store in Brassey Parade in October 2013, Ako Mohammed sold a single packet of rolling tobacco that did not carry the required warnings.
The 30-year-old from London Road (41), St Leonards, pleaded guilty to the offence on a January 8 and was sentenced on Wednesday, February 12 at Hastings Magistrates' Court.
This is a good result for East Sussex Trading Standards," said Cllr Rupert Simmons, lead member for economy.
"This sends a warning to anyone selling illegal cigarettes that it doesn't matter whether you are selling 100 packs or just one, if you are breaking the law you will be prosecuted."
The packet of tobacco sold did not comply with legal requirements – the health warning every cigarette packet should carry was not written in English and the packaging did not contain the required photograph.
East Sussex Trading Standards officers have recently had a number of successful convictions against individuals engaged in the fraudulent activity of the supply and sale of illegal tobacco within the county.
Cllr Simmons said: "Smoking is one of the major causes of illness and premature deaths in East Sussex. Illicit tobacco undermines the work of the stop smoking services and circumvents the controls on the supply of tobacco that protect children.
"Selling tobacco products at pocket money prices encourages people to smoke – particularly younger people which is of great concern."
He added: "As well as costing us all in unpaid taxes, these products also put people's lives at risk – because they are not subject to rigorous controls and checks, we have no idea what they contain."
Mohammed's £200 fine included costs and a surcharge.
Anyone with information about the illegal supply of tobacco in East Sussex can call East Sussex Trading Standards on 08454 04 05 06.