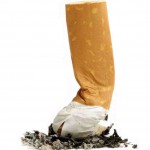 HEALTH chiefs in East Sussex are backing a national initiative aimed at encouraging smokers to quit their habit.
Smoking kills around 1,000 people in the county every year, while nationally more people die from the habit than the combined total of preventable deaths caused by obesity, traffic accidents, illegal drugs and HIV infections.
East Sussex County Council says National No Smoking Day, on Wednesday, March 12, will highlight the free help and support available to smokers who want to quit.
Cynthia Lyons, acting director for public health for East Sussex, said: "The majority of people who smoke want to quit, but most of them choose to go it alone, which is the least effective method.
"Giving up smoking can be extremely difficult, so providing extra motivation and reminding people of the support available locally can make it easier for smokers in East Sussex to quit for good."
Smokers in East Sussex are four times more likely to quit with the help of the free local NHS Stop Smoking service, available through GP surgeries, pharmacies and community venues across the county.
Meanwhile, nicotine replacement products are available on prescription, and free to those who don't have to pay for their prescriptions.
Within a year of quitting, the risk of a heart attack falls to around half of that of a non-smoker, and within 15 years the risk is similar to that of a person who has never smoked.
Meanwhile, within 10 to 15 years of quitting, an ex-smoker's risk of developing lung cancer is only slightly greater than that of a non-smoker.
Free help and advice is available online or by calling 0800 9178896.