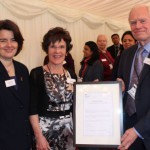 A CHURCH-in-community organisation supporting older people in East Sussex has received special recognition as a 'Public Health Hero'.
Rotherfield St Martin was nominated by Cynthia Lyons, East Sussex County Council's Acting Director of Public Health, to receive recognition for its vital work within the community.
Directors of Public Health across the country were asked to nominate a Public Health Hero by Jane Ellison MP, Parliamentary Under Secretary of State for Public Health, with a handful of nominees to be invited to an event at the House of Lords.
"I nominated Rotherfield St Martin as it is a shining example of what can be achieved when neighbours come together to support each other," said Cynthia Lyons.  "Its culture of self-help means that members not only receive support themselves but contribute to the well-being of others, and to a thriving and healthy village community.
"Not only does the charity help people within its local area, it is also recognised locally as a model of good practice and has produced a guide to help others form and run local support groups for elderly and vulnerable adults."
Jo Evans, BEM, Founder and Charity Manager at Rotherfield St Martin said: "We felt both honoured and humbled to have been nominated for this award, but equally delighted that the work we do with older people has been recognised in this way."
Rotherfield St Martin offers a wide range of health promoting services and support for older people in the Rotherfield area – from Knitting and Nattering to table tennis and hydrotherapy, with at least one free or low cost activity available on most days.  It has more than 340 members and 140 volunteers supporting the older population. It is working towards Rotherfield becoming a Dementia Friendly Village in the near future.
The charity, which raises funds through its coffee shop, charity shop, fundraising events, activities, and grants from charitable bodies,  also provides volunteer drivers for hospital appointments, short term loan of mobility aids, dog walking to enable less mobile people to keep their pets when they are no longer able to walk them themselves and a handyperson for low cost repairs.
Jo and Andy Miller, who is chairman of Rotherfield St Martin, joined a handful of other nominees from across the country earlier this month at a reception at the House of Lords.
Speaking about the event on Thursday, April 3, Jo added: "It was inspiring to meet some amazing men and women from different parts of the country who are making a real difference to the lives of so many people in our nation, often those who are vulnerable and not able to access services.
"Thanks to Jane Ellison for both recognising and celebrating this. It was very lovely to meet staff from the office of Public Health and to see their obvious appreciation for the work being celebrated and their desire to support this at the highest level."
To find out more about the work the charity does visit it website.