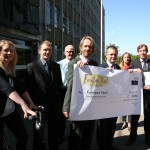 A COUNCIL has been recognised for its employees' efforts in using cheaper, easier and healthier ways of travelling to work.
East Sussex County Council was a winner in the East Sussex TravelChoice challenge, an initiative organised by sustainable transport charity Sustrans which ran throughout June.
 The council came out on top in the category for organisations of more than 250 people in the online competition, which encouraged staff to log the journeys they make by bus, train, foot, bike and car share.
The challenge encouraged people to record their journeys online and receive feedback on how many calories they'd burned and how much money they'd saved by choosing to use sustainable travel.
County council staff logged 208 sustainable journeys, amounting to a total of almost 2,000 miles, in the process saving £430 and 334kg of CO2 and burning 32,761 calories.
The prize was £100 for charity, which the council chose to donate to Furniture Now, a community waste, re-use and training organisation working in Lewes, Eastbourne and Hailsham, to support access to active travel initiatives for young people
Cllr Carl Maynard, East Sussex County Council lead member for transport and environment, said: "As a council it's important that we set a good example for using sustainable transport for everyday journeys, and the benefits that this provides for our staff in terms of being cheaper and healthier.
"This award recognises that and we're delighted to be able to make a small contribution to a charity which does so much good work in the community."
Furniture Now supports more than 35,000 people each year by selling furniture and a wide range of other products donated by the public.
As well as rehoming over 20,000 items each year, it offers education and training particularly targeted at under-represented groups such as the long-term unemployed, those with disabilities and people in deprived areas.
Petrina Mayson, CEO at Furniture Now, said: "We are honoured that the county council chose to donate this money to us.
"We are constantly striving to find new ways to help the local community and reduce environmental impact and this donation will support this work at a time when we are facing unprecedented demand."
In East Sussex, 44 registered businesses and 247 registered participants took part in the TravelChoice Challenge, logging 2,732 journeys amounting to 26,835 miles, saving 3,417kg of CO2 and £4,154 and burning 427,560 calories.
Pictured: from left: Rachael McMillan, from Sustrans, Richard Dawson, ESCC head of economic development, skills and infrastructure, ESCC TravelChoice Challenge participant Paul McLafferty, Martyn Dunne, Lewes furniture services manager for Furniture Now, Cllr Carl Maynard, ESCC lead member for transport and environment, Harriet Knights, from Sustrans, and ESCC TravelChoice Challenge participant Damian Conway.