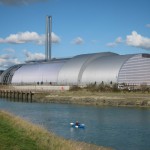 A DECISION to divert waste away from landfill during a planned shutdown of Newhaven Energy Recovery Facility has saved taxpayers around £22,000.
Every year the Newhaven plant needs to be shutdown to allow Veolia to carry out essential annual maintenance on the steam turbines, chimneys and specialised equipment.
Thanks to a deal negotiated by East Sussex County Council, this year around 4,000 tonnes of waste, which would have been sent to landfill in West Sussex, has been diverted to an energy recovery facility in Allington, Kent.
"The decision to divert waste away from landfill was taken in an effort to save money and lessen the impact on the environment," said Cllr Carl Maynard, the East Sussex County Council's lead member for transport and environment.
"This is the first time we have sent waste we are unable to process due to the shutdown to an alternative energy recovery facility, but due to its success, is certainly something we plan to do in the future."
Maintenance this year was carried out with only a partial closure meaning that during the process, carried out between July 9 and 31 2014, around 320 tonnes of waste was still processed at the facility each day.  
Veolia, which runs the Newhaven plant for East Sussex County Council, completed the work a week ahead of schedule.
The Newhaven Energy Recovery Facility has planning permission to process up to 242,000 tonnes of waste a year, enough to power 25,000 homes continuously.