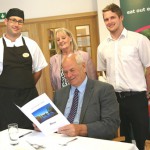 CHOOSING a restaurant that serves up tasty, healthy meals could soon become a lot easier thanks to the launch of Eat Out, Eat Well.
The new scheme enables businesses to promote their healthy eating options and health bosses at East Sussex County Council are keen to get more eateries on board.
Co-ordinated by environmental health teams across the county and supported by the Health Improvement Team within Public Health at East Sussex County Council, the scheme helps to promote better nutrition and increase healthier food choices for customers.
Restaurants, cafes and pubs that offer their customers healthier food choices will be eligible to receive an award in recognition of their contribution to healthy eating. The scheme also extends to staff canteens and school kitchens.
Depending on the number of healthier choices offered, businesses can receive a bronze, silver or gold award, which they can display on the premises to inform customers.
"People are much more aware of their diet and more and more of our residents enjoy the benefits of a healthy and balanced diet," said Cllr Keith Glazer, leader of East Sussex County Council
"Eat Out, Eat Well means local businesses can help their customers stick to a healthy diet while serving up tasty dishes. The scheme ensures that in future customers will be able to choose a restaurant which offers a range of healthy options."
He added: "We are keen to get as many catering businesses as possible on board to ensure that diners sticking to a healthy diet have as much choice as possible when they go out to eat."
Lewes District Council awarded the first award in the scheme, which was the highest accolade – Gold, to St George's Park Retreat in Ditchling.
Councillor Paul Franklin said: "We are very pleased to be awarding the first of its kind to St George's Park Retreat, who's catering staff has achieved such a high standard in food practice."
The retirement village offers a healthy menu to its residents, always offering more than two types of vegetable with each meal and the option of how food is cooked.
Head Chef Brett Tidy said: "We have maintained a five star hygiene rating for many years so it was a natural progression for us to apply to be part of the Eat Out, Eat Well scheme. 
"We have always offered our customers two or more vegetable options with each main meal, as well as healthier cooking options for the protein component of their meals such as steaming, poaching and pan-frying – giving people choice over exactly how their food is cooked.
"We also don't add seasoning during the cooking process, to give diners the option of adding their own salt and pepper at the table if they wish to."
Rob Crouch, environmental health manager for Rother and Wealden District Councils, said: "As Environmental Health Practitioners, we routinely inspect and work with businesses on matters of food safety and hygiene.
"We are ideally placed to build on this by promoting, encouraging and helping businesses to offer healthier food choices to their customers."
Since St Georges, other organisations have gone on to achieve awards including Ollivers restaurant in Seaford and Chartwells contract catering.
For more details on the Eat Out, Eat Well scheme, including information on how businesses can apply for the award visit www.eatouteatwell.org
The scheme is now being introduced across East and West Sussex and is also run in several other district and counties across the country.