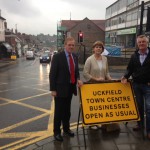 ADDITIONAL signs have been erected at key locations around Uckfield to reinforce the fact that the town is 'open for business'.
The project board behind the Uckfield Town Centre Highway Improvement Scheme brought in the additional signs after fears were raised about the impact of the £2.5 million project on trade.
The additional signs have been placed at strategic locations to remind residents and visitors to Uckfield that all businesses in the town centre are open as usual.
They have been introduced as the project board continues to monitor the situation and to investigate ways of minimising the impact of the scheme.
The project board is made up of representatives of East Sussex County Council, Wealden District Council and Uckfield Town Council, working closely with local businesses and Uckfield Chamber of Commerce.
Cllr Claire Dowling, county council member for Uckfield, speaking on behalf of the project board, said: "The new signs are vital in reinforcing the message that Uckfield is open for business.
"We would urge people to come to the town as normal. There are spaces to park and outside peak evening hours there is little congestion.
"We thank people for their patience and are continuing to monitor the situation and will adopt a flexible approach so we can respond to issues as they arise.
"A degree of disruption was expected for a project on this scale but we do expect conditions to improve as motorists adjust to the new arrangements and the work progresses."
The scheme contractors, Colas, are progressing well with work on the first stage of the project, removing and replacing paving and installing new street lighting.
Work on the east side of the affected section of the High Street just south of the Bell Lane junction is expected to be completed early next week, easing access to local shops.
People can view full details of the scheme in an exhibition which is now on display at Uckfield Civic Centre, in Bellfarm Lane.
More information is also available online at www.eastsussex.gov.uk/uckfieldtransport
People who have comments or enquiries about the scheme are asked to contact the East Sussex Highways Contact Centre by calling 0345 6080193 or via Twitter @esccroads