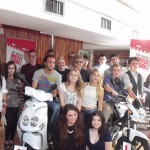 A SOCIAL enterprise which provides people with affordable transport has been recognised for its role in a scheme helping young people – at an awards ceremony attended by one of the biggest names in rock.
East Sussex Wheels 2 Work received a certificate for the role it has played in supporting Heathfield Works, a programme run by Eastbourne-based charity Tomorrow's People and the Heathfield Partnership Trust, which helps young people find work through education and training.
The accolade was given at a ceremony at which Roger Daltrey, frontman of The Who and local ambassador for the project, presented graduation certificates to young people who had completed the scheme.
Wheels 2 Work, which is supported by East Sussex County Council, provides scooters and motorcycles to enable people with little or no access to public transport to commute to work, education or training.
At the ceremony at Heathfield Youth Centre, Wheels 2 Work representatives handed over a scooter to a previous student of the scheme, Theo Cunningham, who has just finished his apprenticeship with local business Printstation.
Cllr Rupert Simmons, East Sussex County Council lead member for economy, said: "In the three years Heathfield Works has been running, it has done a magnificent job in helping more than 120 young people into work and further education.
"I'm delighted that Wheels 2 Work has been able to support a project which has had such a beneficial impact on the lives of people like Theo.
"To have the backing of such a well-known and respected celebrity is the icing on the cake and recognises the tremendous work being carried out by Tomorrow's People."
Since the launch of East Sussex Wheels 2 Work in September 2013, the scheme has gone from strength to strength and now has 80 bikes on the road, with demand outstripping the availability of bikes to loan.
The county council has successfully bid for and secured an additional £205,000 from the Department for Transport, Local Sustainable Transport Fund, to expand the scheme during 2015/16.