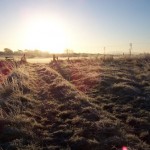 A SURVEY of how and why people use rights of way and countryside sites will help East Sussex County Council plan for the future.
Residents and visitors to the county's 10 countryside sites and 2,000 miles of rights of ways will be asked about their use of the sites, footpaths, bridleways and byways.
Results from the survey, which runs until February 20, 2015, will be an important part of all the information gathered and will be used to draw up plans for how sites and services will be managed in the future.
"As with all services provided by the county council, we are constantly reviewing how they are managed," said Cllr Carl Maynard, lead member for transport and environment.
"To enable us to make best use of our resources, we are asking people to tell us how and why they use rights of way and sites such as Seven Sisters Country Park, Ditchling Common and the Cuckoo Trail."
As well as inviting the public to comment, the county council will be inviting special interest groups and landowners to meetings to discuss their views in the new year.
Feedback from these meetings and the survey will be used to develop an understanding of the long term needs of residents of East Sussex.  The proposals will be subject to public consultation in the summer, 2015. A final plan on how these sites are managed in the future will be agreed in December 2015.
More information and a link to complete the online survey can be found at www.eastsussex.gov.uk/haveyoursay and www.eastsussex.gov.uk/shapingthefuture
A paper copy of the survey is available from local libraries or tourist information centres. Alternatively call the Highways Contact Centre on 0345 60 80 193 or email scs@eastsussex.gov.uk to have one posted to you.
Countryside sites are open spaces that are managed for public use and wildlife conservation. Examples include Seven Sisters Country Park and the Cuckoo Trail.
Rights of way include footpaths, bridleways and byways and can generally be found in the countryside. The council manages these, often alongside landowners, to make sure they remain safe for people to use.