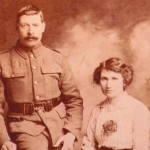 PEOPLE whose relatives died in the two world wars are being asked to take part in a project aimed at bringing Sussex war memorials to life.
Recording Remembrance gives people the chance to create a permanent online record of war heroes' lives by adding details and photographs of those whose names are engraved on memorials across the area.
The project, launched by East Sussex County Council and West Sussex County Council, is also asking people to complete the online list of war memorials across Sussex, including Brighton & Hove.
Cllr Chris Dowling, East Sussex County Council lead member for community services, said: "Our war memorials provide a moving tribute to those who died in the two world wars, but usually contain only the briefest information about those they commemorate.
"This project offers people a chance to fill in the details and to keep the memory of our war heroes alive, so future generations can learn more about them and get a real picture of the person behind the name."
The project, launched by the county councils' Historic Environment Record teams, offers people the chance to submit details such as date or place of birth, death or marriage, where the person lived, a biography of their life or photographs of them.
People can find a war memorial from the existing list and add details or photographs to its record, or create a new record for a memorial not currently listed.
Casper Johnson, East Sussex County Archaeologist, who manages the project, said: "War memorials come in many different forms and are not just the obvious ones in the centre of a village or town.
"They can also be in the form of a stained glass window in a church, a roll of honour or even a water garden."
People can take part by following the link to Recording Remembrance online at www.eastsussexww1.org.uk/take-part and registering their details.