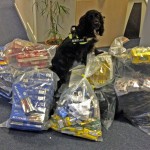 SPECIALLY-trained search dogs helped Trading Standards officers sniff out almost £25,000 worth of illegal tobacco in a series of raids in Eastbourne.
East Sussex Trading Standards enlisted the help of specialist detection dogs Phoebe and Scamp to seek out counterfeit brands and illicit foreign tobacco and cigarettes during its operation on Saturday, March 28 2015.
Officers seized a Volkswagen Passat parked in the Saffrons area of Eastbourne after a haul of £23,000 worth of illegal tobacco and cigarettes was found in its boot following intelligence received from the community.
In a separate raid, a 36-year-old man was arrested by police after Trading Standards officers, alerted by their canine helpers, broke down a wall to uncover a secret stash of £1,000 worth of illegal tobacco products at a shop in Eastbourne town centre.
The male was released on bail pending further enquiries.
Meanwhile, a small quantity of illicit tobacco worth around £40 was found in a concealed wall cavity in a shop in the Seaside area of the town.
Lucy Corrie, East Sussex County Council head of communities, responsible for Trading Standards, said: "This was a very successful day's work for our officers, who have taken a considerable quantity of illegal tobacco products out of circulation.
"Offering cheap, illegal cigarettes and tobacco for sale encourages more people to smoke and puts their health at risk, as well as costing the taxpayer in lost tax revenue.
"The detection dogs are a great asset in helping us to seek out these items quickly, particularly in cases like this where they are deliberately hidden in places where they might not otherwise be found.
"These raids were prompted by intelligence received from the community, and we'd strongly encourage anyone who knows of illegal cigarettes being sold in their area to let us know."
The tobacco dogs, which regularly help Trading Standards in their work, are provided by specialist search dogs firm B.W.Y. Canine Ltd.
Anyone who has information about the trade in illegal tobacco is asked to contact the Citizens Advice consumer service on 03454 040506 or Crimestoppers, anonymously, on 0800 555111.