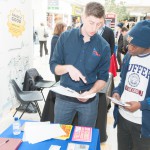 YOUNG people from across East Sussex received career advice and support after attending an apprenticeship matching event.
The East Sussex Youth Employability Service (YES) held an all-day advice session allowing potential apprentices to talk to training providers at the Eastbourne Arndale Centre on Friday, April 30 2015.
Dan Vernon, a representative for the YES team, said: "The event provided an opportunity to talk with young people on a one-to-one basis and give them advice on applying for apprenticeship vacancies and submitting applications."
Present at the event were most of the training providers that are taking part in the You're Hired East Sussex apprenticeship campaign launched by East Sussex County Council.
Shannen Thompson, apprentice intake recruitment executive for training provider 3aaa, said: "The You're Hired campaign is important as it enables training providers and employers to team up and provide opportunities for young people."
The event was well-attended by passers-by and young people who travelled specifically to attend, including Miguel Ottmann, a Year 11 student who is interested in taking an IT apprenticeship after he finishes college.
He said: "Apprenticeships seem like a good idea and something people should consider – I definitely will."
Positive feedback was received from attendees, such as Lawrie Goodman, another Year 11 student who is still considering his options after finishing school. He said: "These events are good as they help you to find what you want to do."
Janette Calverley, centre administrator at the Arndale Centre, also received positive feedback from shop managers, many of whom were calling young people they know and encouraging them to attend the event.
She said: "The event was a great opportunity to showcase what the local community has to offer prospective apprentices, and it generated a big buzz around the Arndale."
In addition to young people attending, there was strong support from parents and grandparents looking to get some advice on behalf of their children and grandchildren.