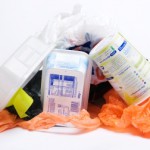 HOUSEHOLDS in East Sussex could help the county become even greener by recycling overlooked items.
During Recycle Week, which runs from Monday, June 22, East Sussex councils will be encouraging residents to look at items around the home that they haven't considered recycling before.
Residents in East Sussex do a great job of recycling thousands of tonnes of waste that would otherwise have to go to landfill," said Cllr Carl Maynard, the county council's lead member for transport and environment.
"While thanking everyone for their efforts so far, I would urge people to think further than the kitchen and recycle items from other rooms in the home."
Many households regularly recycle items such as plastic milk bottles and glass bottles, newspapers and cans, but there are items in almost every room of the house that can be diverted from landfill. These include;
In the bathroom, toilet roll tubes and toothpaste boxes, and plastic shampoo shower gel bottles can be recycled.
In the bedroom, tissue boxes and deodorant can are accepted in recycling collections
In the living room, newspaper, envelopes and cardboard packaging from online orders, as well as air freshener aerosol cans can be recycled
In the kitchen, boxes from breakfast cereal and dishwasher tablets can be recycled along with washing up liquid bottles, plastic bleach bottles and surface cleaner bottles. In Eastbourne, Hastings, Rother and Wealden, residents can also recycle plastic pots, tubs and trays.
Currently in East Sussex, borough and district councils work with the county council to recycle and compost 40 per cent of household waste.
"We would love to increase this figure, but need residents' help to achieve this," Cllr Maynard added. "Every bit of rubbish that is recycled or reused rather than thrown away helps to save money that could be spent on other essential community services, not to mention the benefit recycling brings for the environment."
For more information on what items are collected for recycling from the home or to find the nearest Household Waste Recycling Site visit www.eastsussex.gov.uk/environment/rubbishandrecycling/rubbishcollection
During Recycle Week, Hastings residents can meet their recycling officer between 10am and 4pm at the following locations:
Monday, June 22: Morrison's, front foyer
Tuesday, June 23: Kings Road, opposite Peridot Jewellers (at the junction with London Road)
Wednesday, June 24: Outside the former Co-Op building in Silverhill
Thursday, June 25: Opposite The Body Shop in Station Road
Friday, June 26: The Stade in the Old Town