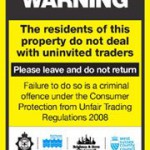 TRADING Standards officers swooped to save an elderly couple in Seaford from being conned out of more than £5,000 by cold callers.
The couple, in their 80s and living in the Alfriston Road area of the town, attempted to withdraw £5,200 from their bank after being talked into agreeing to pay for their drive to be block paved.
After the bank called the police, East Sussex Trading Standards were notified, with officers intervening to cancel the contract, which failed to comply with the law on notifying customers of their right to cancel.
The incident, on Tuesday, August 11 2015, came a day after Trading Standards helped to prevent another elderly resident in the Chyngton area of Seaford from paying out £2,000 to have his driveway paved.
In both cases, the cold callers had begun work on the driveways, and were instructed to pack up their materials and leave.
Cllr Rupert Simmons, East Sussex County Council lead member for economy, urged people in the area to be on their guard and not to be tricked into giving cash to doorstep callers.
He said: "These cases illustrate the callous methods cold callers use to try and pressure the elderly and vulnerable into parting with cash they can ill afford to lose.
"People should exercise extreme caution when dealing with doorstep traders, particular when, as in these instances, they are told the callers are 'only in the area today' and need cash immediately.
"I would strongly urge anyone considering contracting the services of a tradesman to take their time, do their research and choose a reputable trader."
The whole of Seaford is a designated no cold calling zone, in which doorstep traders are warned to stay away.
Anyone who agrees to work costing more than £42 has a legal right to a 14-day cooling off period in which to cancel their agreement.
Anyone who has information about a suspicious cold caller is asked to call the Citizens Advice Consumer Service on 03454 040506.
People who want to deter cold callers can obtain a door sticker which they can display at their front door warning doorstep traders to stay away, which is available by calling the same number.