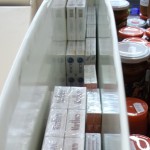 TWO East Sussex shops have been banned from selling alcohol following the discovery of illegal tobacco products on their premises.
Checks by East Sussex Trading Standards officers uncovered illegal cigarettes and tobacco hidden in Ocean Gastronom, Seaside Road, Eastbourne and at Moscwichka in Pevensey Road, St Leonards.
This evidence presented by Trading Standards officers prompted Licencing Act Sub Committees at Eastbourne Borough Council and Hastings Borough Council to take action and remove the alcohol licences from both stores.
"The action taken against these stores sends a clear message to those selling illegal tobacco – it will not be tolerated," said Cllr Rupert Simmons, East Sussex County Council's lead member for economy.
"Offering for sale cheap tobacco encourages more people to smoke, puts people's health at risk and costs the taxpayer in lost tax revenue. This also undermines the legal practice of law abiding traders.
"Targeting and disrupting this illegal trade is a priority for our Trading Standards and Public Health teams."
HJ Food, which owns both East Sussex shops, has already faced action in Tunbridge Wells where illegal tobacco was also discovered.
While both East Sussex borough councils had the power to remove the designated premises holder, they felt this action on its own would not be enough.
"The borough councils take these issues very seriously, as do we," Cllr Simmons added. "Both authorities felt the removal of the licence sent the most appropriate message to the owners of the two stores and offered the best protection to customers."
HJ Food Ltd, which owns both East Sussex stores, had already been the subject of an investigation and review proceedings at its shop in Tunbridge Wells, Kent.
HJ Food Ltd has 21 days to appeal the decisions on Moscwichka in St Leonards and Ocean Gastronom in Eastbourne.