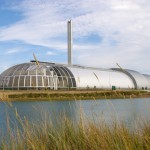 DIVERTING waste from landfill during an energy plant's annual shutdown saved money and reduced the impact on the environment, council chiefs say.
For the second year running, waste which would otherwise have been sent to landfill during a planned shutdown of Newhaven Energy Recovery Facility (pictured) was diverted to other energy recovery facilities in the south east.
The move, the result of negotiations between East Sussex County Council and operator Veolia, saved the taxpayer a provisional £23,000.
The partial shutdown of the Newhaven plant, carried out between July 6 and 26, saw the facility operating at a reduced capacity so routine annual work could be carried out.
Cllr Carl Maynard, county council lead member for transport and environment, said: "The annual shutdown, which is essential for the plant's smooth operation, means it can't deal with as much waste as it normally does.
"Diverting waste we can't process to other energy recovery plants rather than to landfill has proven to be a great success.
"It not only saves money but means rubbish is turned into electricity to power homes and businesses via the National Grid, which makes it a greener, more cost-effective way of dealing with this issue."
During this year's shutdown, around 3,500 tonnes of waste which would otherwise have been destined for landfill, was diverted to facilities in Allington, in Kent, and in south east London.
While the maintenance work on steam turbines, boilers, chimneys and other specialist equipment was carried out, the plant remained partially operational, meaning around 350 tonnes of waste a day could still be processed in Newhaven.
The energy recovery facility, which opened in 2012, has planning permission to process up to 242,000 tonnes of waste a year, producing enough energy to power 25,000 homes continuously.