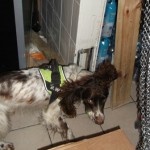 THE HIGHLY trained nose of a detection dog led to the discovery of illegal tobacco and the successful prosecution of two men.
With the help of the tobacco detection dog, Trading Standards officers from East Sussex County Council uncovered illegal tobacco products in Robertson Supermarket in Robertson Street, Hastings, in December last year, and at Fazarna in London Road, St Leonards, in February this year.
At Eastbourne Magistrates Court on Wednesday, September 2,  Ayad Hussen, 31, of Queens Road, Hastings pleaded guilty to 11 counts of having in his possession for supply  tobacco without the required health warnings and product information, contrary to Section 12 of the Consumer Protection Act 1987, and one count of breaching the Trade Marks Act 1994.
Hussen was the owner of both stores. He was fined £800 and made to pay costs of £1,180 and an £80 victim surcharge.
Momand Mohammed Khadir, 31, of Carisbrooke Road, St Leonards, who was looking after the London Road store when the discovery was made also pleaded guilty to four counts of breaching the Consumer Protection Act and one count of breaching the Trade Marks Act 1994.
He was fined £250 and made to pay £600 costs and a £25 victim surcharge.
A forfeiture and destruction order was made for the illegal tobacco products seized.
Following sentencing, Cllr Rupert Simmons, the county council's lead member for economy, said: "This is another great result for our Trading Standards team.  With their thorough checks and the help of tobacco detection dogs, those selling illegal tobacco products have nowhere to hide.
"We are determined to stamp out the trade of these illegal products in East Sussex, which put people's health and risk and impacts on those legitimate traders who trading in accordance with the law.
"I hope that our continued prosecution of those responsible for the sale of illegal tobacco products will send a clear message that this type of behaviour will not be tolerated and the strongest action will be taken against them."