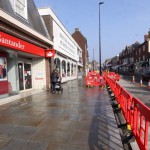 WORK is progressing rapidly on the latest phase of a scheme to improve Uckfield town centre.
Contractors Colas have completed the first of 10 sections of stage two of the Uckfield Town Centre Highway Improvement Scheme, with work well underway on the second section, three weeks after work began.
Work completed at the bottom end of High Street has included installing new, high-quality paving and kerbing and street lights, upgrading traffic signals and preparatory work for tree planting to help mitigate surface water flooding.
A southbound one-way system is in operation in High Street for the duration of the eight-month scheme, with northbound traffic diverted via Bell Lane and the A22 bypass.
A replacement shuttle bus is in operation and free parking is being offered at weekends at Uckfield Railway Station. All car parks are open and freely accessible and motorists can currently still turn left out of Luxford Field car park, as High Street remains open to two-way traffic above the roadworks.
Cllr Claire Dowling is chairman of the scheme project board, comprised of representatives from East Sussex County Council, Wealden District Council and Uckfield Town Council.
She said: "We're really pleased with the way the project is progressing and while we're still in the early stages, hopefully people can now begin to see the progress that is being made and how it is improving the High Street.
"The feedback we've had on the traffic management has been overwhelmingly positive – the one-way system and diversion route, along with the public transport measures put in place, are working well and keeping disruption to a minimum.
"The board, local traders, the Uckfield – The Future group and the Chamber of Commerce are working hard to spread the word that Uckfield is open for business as usual throughout this scheme and it's vital that people continue to support businesses in the town centre while the works are being carried out.
"We all want the town centre to be successful and these improvements will help to achieve that by making it more attractive to shoppers and visitors, allowing traffic to flow freely and improving access to public transport, which will help deliver economic growth, jobs and a thriving economy for Uckfield."
More information is available at www.eastsussex.gov.uk/uckfield while anyone with enquiries about the scheme is asked to email uckfieldtowncentreimprovements@eastsussex.gov.uk or contact East Sussex Highways by calling the contact centre on 0345 6080193 or  via Twitter @esccroads