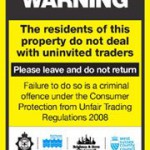 ROGUE traders operating in East Sussex have been targeted during a 'day of action' as part of a national crackdown.
A shopkeeper from Eastbourne was arrested and sent before the courts to face charges relating to supply of counterfeit cigarettes, while a cold caller operating from Bexhill was issued with a court order requiring him to operate within the law.
The action, carried out by East Sussex Trading Standards working with Sussex Police, came on Wednesday, April 13, a national day of action as part of Operation Rogue Trader, a week-long co-ordinated effort running across the country.
Cllr Chris Dowling, East Sussex County Council lead member for community services, said: "Traders in illegal tobacco put people's health at risk, while rogue doorstep callers prey on the vulnerable, causing not just financial but psychological harm.
"Our Trading Standards teams do a fantastic job all the year round, but these actions are part of a co-ordinated effort across the country to target criminals, protect vulnerable people and raise awareness of this kind of crime."
Trading Standards officers worked in partnership with Sussex Police to carry out the arrest of a shopkeeper from Eastbourne, who had failed to appear at Eastbourne Magistrates Court earlier this month.
The man, who faces charges relating to the possession of counterfeit tobacco, placing unsafe products on the market and fraud, was bailed to reappear before Eastbourne Magistrates on Thursday, April 21.
Meanwhile, Patrick Lemmon, of Ersham Road, Hailsham, who trades from premises in Cooden Sea Road, Little Common, Bexhill, was issued with an enforcement order issued at Brighton County Court.
The 54-year-old is a doorstep trader offering building and maintenance work, trading as the Regency Paving Company, Regency Home Improvements Company and Regency Refurbishment Company.
The order states he must comply with requirements including carrying out work to a reasonable standard and at a fair price and informing consumers of their cancellation rights – or face further legal action.
As part of the week of events, East Sussex Trading Standards officers attended the Senior Citizens' Club in Bexhill and a community day at St John's Church, in Polegate, to raise awareness of the dangers of rogue traders and offer advice on how to avoid becoming a victim.
Meanwhile, officers investigated reports of rogue trading in the Heathfield area after information about doorstep callers offering roofing repair work was received.
Trading Standards and Sussex Police also spoke to a variety of traders over the course of the day to remind them of the law relevant to their business and the importance of complying with it.
Residents are urged to check the credentials of any doorstep callers, not be pressured into agreeing to work on the doorstep and only agree to work offered by reputable traders.
Anyone who receives a visit from a cold caller and is suspicious about their trading practices is asked to report it by calling the Citizens Advice consumer helpline on 03454 040506.