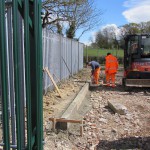 KERB stones removed as part of a refurbishment of Uckfield High Street are being put to good use at a Sussex heritage railway.
The granite stones have been used by the Bluebell Railway to create a new entrance to its main goods yard, based at its station in Horsted Keynes, near Haywards Heath.
They were donated by contractor Colas after being removed to make way for new paving as part of the Uckfield Town Centre Highway Improvement Scheme.
Matt Crawford, Bluebell Railway infrastructure manager, said: "One of our volunteers heard about the scheme in Uckfield so we thought we'd ask on the off chance if we could use some of the unwanted kerbstones.
"We were really pleased when they said yes and the same day our volunteers were able to start work. I never like to throw anything away so it's great we've been able to make use of them.
"We've laid about 40m worth of stones – they look really smart and have helped us to give more of a heritage feel to the work that's going on at the station."
The heritage railway, founded in 1960 following the closure of the line by British Railways, and staffed largely by volunteers, runs a regular service transporting passengers on carriages pulled by vintage steam locomotives between East Grinstead and Sheffield Park.
The Uckfield scheme is overseen by a project board comprised of representatives from East Sussex County Council, Wealden District Council and Uckfield Town Council.
The second stage, which is currently under construction, will see new wider pavements, new street lights and traffic signals and tree planting to alleviate surface water flooding.
Project board chairman Cllr Claire Dowling said: "This is a fantastic gesture by Colas and the county council and we're delighted the paving stones are being put to good use to help the railway, which plays such a big role in bringing visitors into East Sussex and boosting the county's economy."
"The new Yorkstone paving we're putting in looks fantastic but the old stones still had some life left in them, so it's good to see them being reused in this way."
More information about the Uckfield scheme can be found at www.eastsussex.gov.uk/uckfield while the Bluebell Railway is online at www.bluebell-railway.com