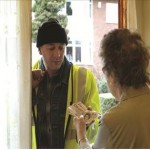 VICTIMS of a cowboy roofing contractor will see a considerable amount of their money returned thanks to the efforts of East Sussex Trading Standards.
John Gray was jailed for eight-months last year after conning vulnerable and elderly residents out of more than £26,000 for ineffective and unnecessary roof repairs.
Despite promising to repay the money, none of the victims from East and West Sussex received a refund from the 28-year-old Berkshire man.
But a thorough search by the county council's financial investigator unearthed more than £16,000, which a judge ordered Gray to hand over to the people he had conned under the Proceeds of Crime Act 2002.
"This result sends a strong message out to rogue traders who think they can profit by conning residents in East Sussex," said Cllr Chris Dowling, East Sussex County Council's lead member for community services.
"While Gray was sentenced to eight months in prison, his victims were still counting the cost having lost thousands of pounds to this fraudster.  I am delighted that the efforts of our financial investigator have resulted in at least some of their money being returned."
Joan Davies, of Seaford, was 92 when she was targeted by Roof Revivers, which initially said her roof needed replacing at a cost of around £70,000, before offering to wash the roof and apply a coating with 'thermal insulating properties' for a 'special price' of £8,000.
Sadly she died before the case went to court, but some of the money she paid out will now be returned to her daughter Valmai Goodyear.  Mrs Goodyear will donate some of the money to Think Jessica – a charity supporting the victims of scams – in memory of her mother.
She said: "I can't praise Trading Standards highly enough – they have done a superb job and been very thorough, patient and persistent throughout. I'm very satisfied they've been able to get some of the money back and that we can use some of it to help protect future victims of fraud."
Mrs Goodyear urged others to be vigilant and never agree to anything on the doorstep.  "Even if you don't fall victim to a scam, please let Trading Standards and the police know these people are operating in your area," she said.
"I'd also urge people to look out for their elderly and vulnerable neighbours. These kinds of scams inflict an awful lot of pain and humiliation – and in some cases can even lead to financial ruin."
Anyone who has information about a suspicious trader is asked to call the Citizens Advice Consumer Service on 03454 040506.
People who want to stop doorstep traders can obtain a free 'super sticker' which they can display at their front door warning doorstep traders to stay away, which is available by calling the same number.
John Gray, of Old Bath Road, Colnbrook, Berkshire, was the sole director of Roof Revivers Ltd, a company originally based in Wickford, Essex, before moving its head office to Newhaven.
Following an investigation by East Sussex Trading Standards, Gray admitted fraudulent trading across East and West Sussex in July 2015 and was sentenced to eight months in prison.  He was also disqualified from serving as a director of any limited company for five years.