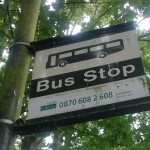 VIEWS are being sought on changes to Eastbourne town centre bus stops designed to make Terminus Road pedestrian friendly.
Proposals agreed by the Eastbourne Town Centre Improvement Scheme Project Board include relocating bus stops in Terminus Road to Gildredge Road and Cornfield Road.
Initial designs, based on consultations in 2013 and 2014, involved moving all bus stops to Cornfield Road but after reviews of the design and concerns express by local bus companies, only east bound stops will be relocated here with westbound stops being moved to Gildredge Road.
Matthew Reid, the scheme's project manager said: "This is a major scheme which gives us the opportunity to dramatically transform Eastbourne town centre; improving pedestrian access, public transport links and the local environment. We have worked closely with Eastbourne Borough Council and bus operators to revise plans to take into account concerns about the volume of traffic in Cornfield Road.
"Relocating bus stops to Cornfield Road and Gildredge Road enables us to better manage the impact of buses within the town centre, while allowing us to widen footpaths through Terminus Road, particularly at Banker's Corner where space can be created for public events, enhance the station as a central transport hub and take full advantage of the Arndale extension."
The Eastbourne Town Centre Improvement Scheme includes reducing Terminus Road down to one bus lane between Ashford Road and Bankers Corner, allowing pavements in Terminus Road to be widened, repaving Cornfield Road and parts of Gildredge Road and introducing new seating areas and soft landscaping.
It is anticipated that the work will reduce traffic flow by around 50 per cent through Terminus Road adjacent to the Arndale, making the area more pedestrian friendly.
Detailed studies have been carried out to ensure the introduction of bus stops in Gildredge Road will have a minimal impact on the flow of traffic. Several options were considered with the most efficient incorporating a bus lane and reducing Gildredge Road down to one lane, converting back to two lanes north of Mark Lane.
It is also proposed that existing on street parking will be moved, where possible, to the eastern side of Gildredge Road.
The scheme's delivery team is keen to hear the public's view on the proposal and are inviting people to take part in the consultation which runs from Monday, June 12 to July 3.
A consultation questionnaire and further information can be found at www.eastsussexhighways.com/etcis
Comments received during the consultation will be considered in finalising the design for Gildredge Road.
There will be further opportunity to submit formal comment on elements of the Eastbourne Town Centre Improvement Scheme in the summer when the project team undertake a detailed consultation exercise for the Traffic Regulation Orders associated with the scheme.