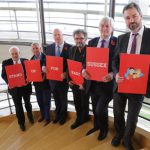 Issued in partnership with district and borough councils in East Sussex
LEADERS of all district and borough councils in East Sussex have thrown their weight behind a campaign calling for fairer funding for the county.
The Stand Up For East Sussex campaign is urging people to sign a petition calling on the Prime Minister to urgently rethink the funding the county receives.
The cross-party support from leaders of all five East Sussex districts and boroughs comes as a fresh boost to the petition, which more than 5,000 people have signed since it was launched a month ago.
The campaign highlights the mounting pressure on essential services for some of the county's most vulnerable people as public spending declines. It points out that East Sussex also has to contend with below-average wages, lack of large firms to boost business rates and often inadequate transport links.
Yet government funding for the county is dwindling. The County Council has had to make savings of £112 million since 2010 with a further £58 million expected over the coming four years on current estimates.
The campaign also highlights some of the East Sussex's successes, including its growing economy, and asks the Government for more powers to build on these strengths.
The petition, which runs until early December, can be signed online
A series of short campaign videos can be viewed on our website
Standing up for East Sussex – council leaders give their backing
Cllr David Tutt, Liberal Democrat leader of Eastbourne Borough Council, said: "The remorseless nature of the government cuts in funding for public services is devastating.
The cross-party consensus for this campaign reflects the gravity of the situation and the urgent need for the government to reassess the funding settlement for East Sussex."
Cllr Peter Chowney, Labour leader of Hastings Borough Council, said: "I fully support the county council's campaign to restore funding for local authority services to the county and district councils in East Sussex. Local services throughout the county have suffered because of grant cuts. We need grant funding restored to a realistic, sustainable level if we're to deliver the local services that people need."
Cllr Andy Smith, Conservative leader of Lewes District Council, said: "The pressure on core services in East Sussex has never been greater. These are services that the most vulnerable in our communities rely on, the type of support that some can take for granted, but many cannot. I am fully behind this campaign and hope that the Prime Minister and her colleagues will reflect on the impact the cuts in local funding are having."
Cllr Carl Maynard, Conservative leader of Rother District Council, said: "Providing the quality local services that people rely on is harder than ever because funding simply doesn't reflect the real needs of our population. By speaking up together we can urge a serious re-think of the support that's given to people in East Sussex."
Cllr Bob Standley, Conservative leader of Wealden District Council, said: "Local government has made significant savings in recent years. The County Council faces particular challenges with the increasing demand for Adult Social Care and Children Services across the whole county including the Wealden District. I support the Stand Up For East Sussex campaign which is asking for sufficient funding and greater freedom in how councils can deliver services to the community."